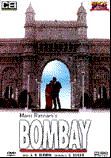 Taken from
Netflix
:
Tackling the controversial subject of a cross-cultural love affair, writer-director
Mani Ratnam
's film personifies Hindu-Muslim racial tensions. A south Indian Hindu man marries a Muslim woman, and the couple soon bears twin boys and moves to Bombay. The family is separated during the early 1990s -- a turbulent time when racial tensions were high in the area -- and the parents must search hospitals, morgues and shelters for their children.
Will be on view Tuesday June 10th, in Penrose 107, 6-9 in the international cinema class. The class starts at 6, the teacher, Erin Moran usually starts with an intro and some questions for the class to think about so come a little late or wait outside until the lights turn off.